1.Basic information:
INCI Name: Dipeptide Diaminobutyroyl Benzylamide Diacetate
Cas No: 823202-99-9
Formula: C23H37N5O7
Molecular: 495.56
Sequence: H-β-Ala-Pro-Dab-NH-Bzl
Purity: >98%
Solubility: soluble in water
Grade: cosmetic
Capacity: 500g per month
Appearance: white powder
Solution: 0.1-1%
Recommended use level: 1 - 4%.
2.Cosmetic benefits:
AKE helps reduce wrinkles and laughter lines

Age-defying products particularly effective against expression lines

Intensive wrinkle-smoothing products
3.Description:
AKE is an anti-wrinkle active compound based on a synthetic tripeptide that mimics the effect of Waglerin 1, found in the venom of the Temple Viper. The biological activity of AKE reduces the contraction frequency of muscle cells on the face, thereby decreasing expression lines. It prevents the fixation of acetylcholine-the 'contraction messenger' for facial muscles that calms the muscle contractions that would increase wrinkling. The frequency of muscle contraction is reduced only after 2 minutes treatment. In vivo testing showed an impressive reduction of over 50% in wrinkle size after 28 days.
Product Parameter:
• INCI name:Dipeptide Diaminobutyroyl Benzylamide Diacetate
• Traits:White powder
• PH:No
• Purity:>95% purity
• Storage conditions:Cool and dry place at 2-8℃, protected from light, keep package airproofed when not in use. Please store -20℃ to -15℃ for long term storage.
• Safety:No heavy metals, no skin and eye irritation
• Package specification:1g/bottle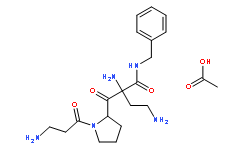 Efficacy and application:
Anti-wrinkle