1.Basic information:
INCI Name: Palmitoyl Tetrapeptide-3,Palmitoyl Tetrapeptide-7
Reference: Rigin,DermaPep A410, Regestril, Corum 8804 / 8814 / 8814CC
Cas No: 77727-17-4
Formula: C34H62N8O7
Molecular: 694.91
Sequence: Pal-Gly-Gln-Pro-Arg
Purity: >95%
Grade: cosmetic
Formulation: available for your reference, please contact us.
MSDS and COA: available for your reference, please contact us.
Delivery: promptly from stock
Source: synthetic
Odor: no
Stability: stable
Capacity: 1500g per month
Appearance: white powder
2.Activity: Palmitoyl Tetrapeptide-7 Stimulate collagen and glycosaminoglycan synthesis.
3.Usage:anti-dark circle,improves firmness and elasticity, decreases inflammatory phenomena.
4.Description:Palmitoyl Tetrapeptide-7 stimulates expression of GCP-2 (Granulocyte Chemotactic Protein), which is a chemotactic protein that can recruit cells involved in the preparation and cleansing of the site, to damaged areas. Palmitoyl Tetrapeptide-7 is also called Rigin. Rigin is a synthetic peptide that is a fragment of immunoglobulin G that has been combined with palmitic acid to make it more lipophillic and thus enhance its affinity towards human skin. Rigin is a peptide that mimics DHEA in the skin.
Product Parameter:
• INCI name:Palmitoyl Tetrapeptide-3,Palmitoyl Tetrapeptide-7
• Traits:White powder
• PH:No
• Purity:>95% purity
• Storage conditions:Cool and dry place at 2-8℃, protected from light, keep package airproofed when not in use. Please store -20℃ to -15℃ for long term storage.
• Safety:No heavy metals, no skin and eye irritation
• Package specification:1g/bottle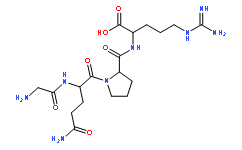 Efficacy and application:
Anti-wrinkle and anti-aging Improve skin quality
Can be added to skin care products, such as lotions, facial masks, creams, eye essences, etc